In 2019, no-one should be denied access to life-saving vaccines, services for diseases such as tuberculosis (TB) and good nutrition. Even though we have made remarkable progress in improving global health, challenges remain and progress is stalling. 1 in 10 children do not receive any vaccines, TB is the biggest infectious disease killer in the world, and the number of people with undernutrition is rising.
RESULTS UK believes now is the time to go further and faster in our efforts to improve the lives of the world's poorest and most vulnerable people. 2019 and 2020 provide the UK Government and other global leaders with unparalleled opportunities to be ambitious in our goals to end poverty and achieve universal health coverage.
Our new publication 'Brick by Brick: Accelerating Progress on Global Health' outlines how a number of crucial health financing moments over the next year must be seized to accelerate progress on the Sustainable Development Goals (SDGs).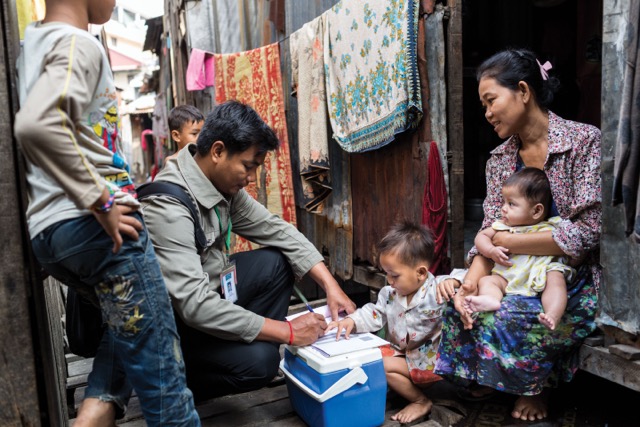 Between October 2019 and summer 2020, the Global Fund to fight AIDS, TB and Malaria (Global Fund), the Global Polio Eradication (GPEI), Gavi, the Vaccine Alliance (Gavi) and Nutrition for Growth (N4G) will all require renewed funding commitments. Global health multilaterals have had an unprecedented impact in the world, with Gavi immunising over 690 million children, polio cases reducing 99.9% since GPEI was founded, and the Global Fund helping to save 27 million lives.
Brick by Brick calls on the Department for International Development (DFID) to make ambitious financial commitments to these global health multilaterals and align these commitments with investments in nutrition.
Why health and nutrition need to be a priority for the UK
Investments in health and nutrition are the most efficient way of meeting DFID's strategic objectives of promoting global prosperity, achieving value for money and reaching the world's poorest and most vulnerable.
Investment in health has been proven to develop human capital, meaning the more that is invested in a person's health the more they are able to contribute to economic growth – the premise is simple: if an individual is healthy they are able to 'survive and thrive'.
In addition to the high return on investment in health, multilateral organisations such as Gavi and the Global Fund are a quality and reliable channel for UK aid. As we seek to maximise the quality of UK aid, it is imperative we continue to pledge funds to channels that extend the reach and impact of UK aid.
Additionally, attempts to prioritise the poorest and most vulnerable people must encompass an emphasis on vaccines, TB services and nutrition. Brick by Brick highlights that lack of access to vaccines, TB and poor nutrition disproportionately affect the poorest and most vulnerable people. This is why the UK's commitment to 'Leave no one Behind' will not be fulfilled without a collaborative approach to these issues.
Health and nutrition: time for a collaborative approach
RESULTS is calling for DFID to go further than simply investing in health and nutrition, but also to drive a new approach that treats health and nutrition as co-dependent issues.
Health and nutrition are inextricably linked and therefore it is imperative they are treated as co-dependent issues. For example, nutrition related factors contribute 45% of deaths in children under the age of five and a malnourished person is three times more likely to develop TB. It is essential that vaccines, TB services and good nutrition are considered to be the building blocks for strong a primary health care system. Without investment in all these interventions, individual investments will be undermined. For DFID, this will mean aligning ambitious investments in global health health multilaterals with bilateral investments in nutrition and whilst also leveraging their influence as a global development leader to drive this much-needed new approach.
Seizing the opportunity
Exceptional progress has been made on global health, but inequalities still remain. World leaders cannot afford to overlook the opportunities that 2019-2020 provides. Health is a cornerstone for all development. Investment in health saves and improves lives and sets the wheels in motion to drive progress across all the SDGs.
We need to build the global health infrastructure the world needs. We need to build it – brick by brick.